Ayelen Osorio
Community + Content Marketing
It's been a big year for Netcoins. From having a new president, redesigning the platform, to getting acquired, we've been busy working behind the scenes, while always ensuring we're putting our customers first. To help you better understand the Netcoins App, here's a quick overview of how the platform has changed over time and how it can help you for the new year.
2014 – Early 2018
Netcoins was founded in 2014. Back then a big portion of our business model focused around our Reseller Platform, which went something like this:
a) Jane signs on to be a Netcoins reseller. She is vetted, approved and trained.
b) John is looking to buy Bitcoin.
c) Jane sells Bitcoin to John through the Netcoins Reseller Platform.
d) John gets the Bitcoin. Jane earns commission. It's a win-win situation.
Below is a peak of what the Reseller Platform looked like back in the day. While it worked well back then, the market sentiment, and how people bought and perceived Bitcoin, changed really, really fast. So our platform had to adapt just as fast in the upcoming year.
2018
If there was a word associated with 2018, it was "Growth." Both for our team and our platform.
Netcoins grew from a 2 person team to a modest 10. Mitchell, who helped start the world's first Bitcoin ATM, moved up the ranks to become President of Netcoins. Zelly and Angel, whom many of you who use the app will know, redefined what amazing customer service is, especially in the crypto space. We learned so much from them, and so much more about our customers too.
For example, our customers wanted a more intuitive way to buy and sell not just Bitcoin, but other cryptocurrencies as well. And they wanted to be able to do this by themselves without third party involvement.
This is when we began to shift our focus away from the Reseller Platform to a Direct-to-Consumer approach. With the shift in direction, this meant that our new design had to reflect the changes we were making internally.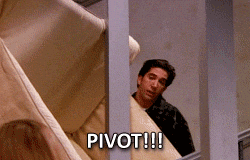 Our customers wanted the ability to buy, sell and hold cryptocurrency 24/7/365. They also wanted to withdraw cash on the same day and not have a limit on the amount of cash they could take out in a day (why should they have a limit if they own their money?). Pivoting in this new direction effectively made us a custodial brokerage.
So here is a glimpse of what the platform looked like in 2018. You can see that at this point additional coins were introduced, along with a few other features including a Netcoins balance, Buy with Credit Card and more!
While we were making strides in functionalities and design, our customers were finding this design a little confusing and "too busy." They were happy to begin their investing journey in crypto, but weren't quite so sure where to begin. So we went back to the drawing board in preparation for 2019.
2019
Our designers and engineers (and of course our beloved Zelly and Angel were there too!) went back and forth discussing what the new platform experience should look and feel like for our investors. It was no easy task. There were so many questions that needed answering: 
How do we take something as complex as the crypto world and make it simple to use?
How do we take care of the boring stuff so our customers can stay excited about learning and investing? 
As Steve Jobs once said:
"Simple can be harder than complex: You have to work hard to get your thinking clean to make it simple. But it's worth it in the end because once you get there, you can move mountains." 
This time our goal with redesigning our platform was to simplify it. To make things as easy, intuitive and user-friendly as possible. That's when we split the app into 4 main pages:
(1) Dashboard – A central place where a user can see a quick overview of their balances (how much crypto or CAD they hold on the Netcoins app) and a summary of their investing activity to date.
(2) Fund – Users can deposit Canadian Dollars from their bank account, or crypto, to their Netcoins account.
(3) Buy / Sell – When they have funded their Netcoins account, they can exchange between fiat to cryptocurrency, or cryptocurrency to fiat (ex: Canadian Dollar to Bitcoin, or Bitcoin to Canadian Dollar, among other cryptocurrencies).
(4) Withdraw – Getting your Canadian dollars or crypto out of Netcoins is as easy as clicking a button, and often happens instantly or within a business day.
Of course, should customers have questions or be stuck at any point, they can always speak with Zelly and Angel in the box that pops up at the bottom right corner. Are you ready? This is what the 2019 version of our platform looks like:
The response from our customers has been great so far. We were so happy to hear that the experience was seamless and easy for our customers! "Thank you so much that was so easy! Great service." – Laura
This called for a team celebration! We're definitely not stopping here, and we are constantly working on improving things.
That's a Wrap!
2019 was a great year for Netcoins, and it's all thanks to you, our customers! Our goal for 2019 was to focus on making the platform even more secure, robust, beautiful and easy-to-use. We have so many more ideas and features coming up for the new year.  
As with all things, it takes time to get things right or to get where you want to go. At Netcoins we feel fortunate to have customers voice their opinions about what they love, what they need help with, and where they want to go. We find the real-life problems they experience to be missions to solve. So we iterate constantly, with grit, passion and humility, trying to solve their problems. 
We can't wait to help you rock 2020! Come back soon and read more. Until then, happy holidays and cheers to the new year! 
Written by: Ayelen Osorio
Writer, community + content marketing at Netcoins. Life's biggest enthusiast. Learn crypto with me.